Your School Uniform Partner
ABOUT THE SCHOOL UNIFORM COMPANY
The School Uniform Co. is a family-owned and operated business with over 18 years' experience in the New Zealand schoolwear market. The School Uniform Co. is 100% dedicated to serving primary & intermediate schools. We are proud to design and manufacture our own proprietary schoolwear collection, TOAST Schoolwear uniform garments to provide a range of high quality-tested uniform pieces to the schoolwear market.
We also supply clothing outside of the School Market such as Work Wear and Sports Wear.
The School Uniform Company is proud to announce that we provided the team uniforms that the performers wore for the FIFA Women's World Cup Opening Ceremony
PARTNER WITH US
The School Uniform Co. knows each School has its own identity. We will work closely with your Team to understand what's important. We will guide you through garment options and fabric alternatives to deliver a uniform your School will be proud of.
GET IN TOUCH
3 REASONS TO CHOOSE THE SCHOOL UNIFORM COMPANY
Seamless Delivery - we understand how busy parents are. Our website provides quick, easy ordering with fast delivery and no hassle exchanges.
Uniforms that are built to last - we deliver quality garments through our longstanding relationships with reputable suppliers who sustain high quality standards across our uniform range. 
Unmatched Service - our Team goes over and above every day to make life easier for our customers.
TOAST SCHOOLWEAR RANGE
For over 18 years The School Uniform Co. has designed and manufactured its own schoolwear range, TOAST Schoolwear garments provide a range of high quality-tested uniform pieces to the schoolwear market. 
We can also source other styles and colours from our many suppliers.
Please get in touch with your requirements so we can help.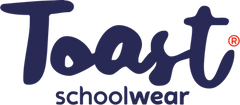 VIEW FULL RANGE